Volkswagen is well-known for making reliable and high-quality vehicles. When you're shopping for an SUV, however, dependability on its own isn't enough. Many drivers look for SUVs because they want to do more. And how much "more" an SUV can do often ties directly to the level of cargo space it provides. Luckily, Volkswagen offers a pair of impressive cargo haulers in the Volkswagen Tiguan and Volkswagen Atlas.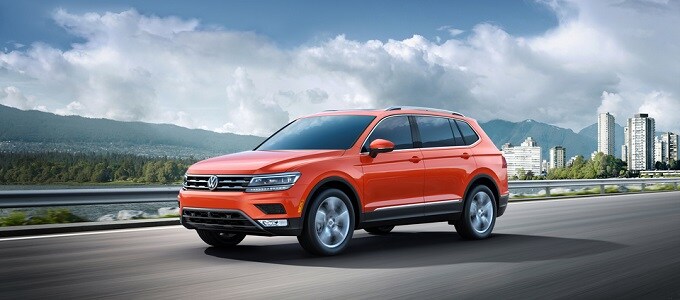 If you're searching a compact SUV, the Tiguan and Tiguan Limited don't disappoint when it comes to cargo. The three-row version of the Tiguan is more limited, with only 12 cubic feet of space. Drivers who need more, however, can fold the seats down, expanding its cargo area to a more useful 33 cubic feet. If you invest in the two-row Tiguan, you get 37.5 cubic feet right off the bat. When you fold all the seats down, the Tiguan and Tiguan Unlimited can offer 65.7 and 73.6 cubic feet of space, respectively.
Moving up to the mid-size range, the three-row Volkswagen Atlas provides a none-too-shabby 20 cubic feet behind its third row. If you need don't need the extra seating for passengers, however, you can fold down the third row to jump up to 55 cubic feet. And if you have a seriously large load? You can fold down all the seats and gain access to a whopping 96.8 cubic feet.
What conclusion can you draw from all this? If cargo space is a must-have, you'll find a lot to love in the new Volkswagen lineup. To learn more, get in touch with the sales team at Flagship Volkswagen. Our friendly team serves drivers all over Puerto Rico, including customers in Bayamon and more.